// what we do
Data Entry Services
vBridge offers high quality and low cost data entry services partnering with offshore development centers in India. We have a vast experience of handling complex data entry projects.
Our data entry service is flexible as per clients requirements and is cost effective giving a competitive advantage over competitors. Data Entry Projects vary from simple entering of page-by-page images of documents into publishable PDF or word documents to complex auditing of images.
Case Study 1
A silicon valley Mobile app startup approached us with a unique project which involved auditing invoices scanned or photographed by their customers. There was OCR (Optical Character Recognition) technology to scan most of the important fields, but still there was the requirement of a team to review these invoices and the recognized values had to be 100% correct.
.We quickly started off with one Data entry clerk and is working on establishing a team now as work picks up. Our UK Office ensured that the training is minimum and that the customer involvement is reduced to a minimum at the earliest by saving them time and money.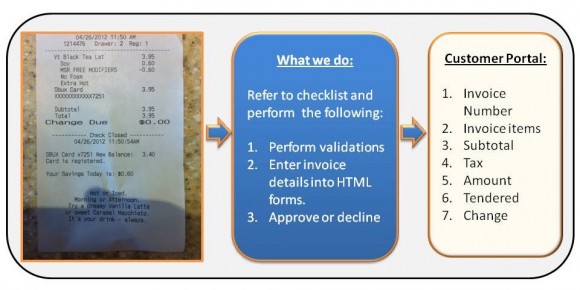 Case Study 2
This project involved scanned images of ancient books form a library and we wanted to convert these images into Word documents. A team was setup and also a proof-reader/reviewer to push the accruracy towards 100%.