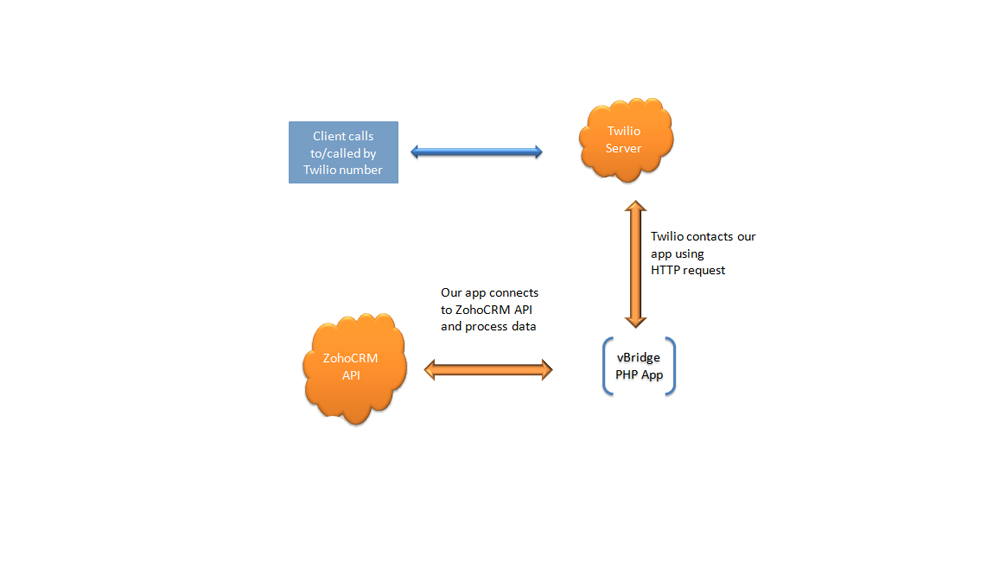 ZohoCRM – Twilio integration is like a bridge between ZohoCRM and Twilio cloud telephony application. Our app will provide necessary XML data for Twilio IVR. It also processes ZohoCRM data according to the needs of the customer.
Our app will automate sales process, so that, it will allow user to skip a lot of manual steps. It will generate sales order and invoices automatically.

Lead To Purchase Automation:

Leads in the CRM will be generated by means of a web form or by manual entry by the sales executive. When a lead falls into a certain criteria(predefined), a custom field in leads module will be changed manually by the sales executive. Upon changing the value a workflow rule will be executed so that a call will be made to the leads mobile or phone number. The call will be handled by Twilio. If client answers and confirms order – IVR is used for taking client response -, that lead will be converted to an account and a contact automatically. After two days of conversion of lead to account/contact, a sales order will be generated automatically. Again after two days of sales order generation, invoice will be generated automatically.

Invoice Querying Automation:
The contact/account will call to company Twilio number. This time the user response is captured using an IVR. If user queries about any invoice, all call recordings for that number will be associated with the queried invoice.
Technology: PHP, ZohoCRM API, ZohoCRM Deluge Script, Twilio API, TWIML